The Original George's Gyros Spot
Restaurant in Chesterton, IN
Drive Thru | Carry Out | Dine In
Free Wifi | Pick Up Through the Drive Thru!
Monday – Saturday:
10:30 am to 9:00 pm
Sunday:
11:00 am to 8:00 pm
George's Gyros Spot restaurant is located in Chesterton, Indiana. We serve Chicago dogs, Italian beef, gyros, polish dogs, and cheeseburgers. Our restaurant is affordable and we serve all our food quickly with exceptional service.
Our restaurant offers a drive-thru for people on the go: call in and pick up at the drive thru, or drive thru, dine in, call ahead, carry out!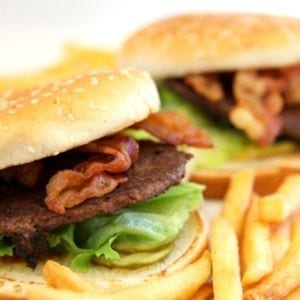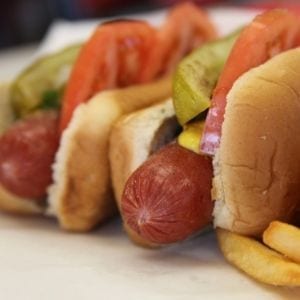 Our Gyro Restaurant Photos
Why Our Restaurant is Different
Our restaurant has DEEP roots in the local  community. With our first store opening in 1998, we hold annual fundraisers, give free cones to students on their last day of school, give free hot dogs to kids on Halloween,  and much more!
We're not a a nameless, faceless chain. We care about our customers.
We have over 250 5 star Google Reviews. View them here.
Our restaurant has been inducted into the hot dog hall of fame!
"While on a much needed momcation visiting my sister who lives in the area, we went to this awesome restaurant! It has authentic Greek food the gyro was flipping amazing!!! Also their Greek salad was phenomenal. We had a delicious piece of baklava and we split everything and are stuffed!!! What a great value for as much food as you get. I never saw such a big whopping gyro! The staff is so friendly! Nancy was so awesome and what a sweetheart!!! Got a chance to talk to the owner Paul and he assured me no matter what he will always make his sandwiches hearty!!! Come here when you're hungry you definitely won't be hungry when you leave. Sorry I was hungry and ate it all before I could take a pic, but I took a picture of the dessert😃
"One of my favorite places in Chesterton! They have really great food all around. Cheeseburgers are yummy, and a good size too! I also like the cheese dogs and fries, and Gyro platter! You can't go wrong with this place! Good food and you won't leave hungry!"
"In the mood for gyro's, a hot dog, or some chicken? This a great option in Chesterton. You find a large menu, generous portions, and good service at George's. I prefer the gyro platter, but it is normally two meals for me. The gyro meet is really good. Try a hot dog and you won't be disappointed either"
"This place is straight up amazing. Food is so good and made very quickly, portions are big, and staff is ace. The gyros are just too good."